Politics, Economics and Art
1919-1950
In Glasgow, the period from the end of the First World War to the 1940s was one of political unrest, economic uncertainly, and yet technological innovation. Strikes and depression in the 1920s and early 1930s were followed by the promise of an industrial revival before the onset of World War II in 1939. These factors are reflected in the activities of GSA, its staff, students, and alumni during this period.
On the one hand, new courses in Communication Design and Industrial Design were established to train students to work in the growing fields of promotion and product development. A new Assembly Building providing increased student facilities was opened in 1929. The period also saw the establishment of the Students Representative Council, an athletics club, and the Kinecraft film society. On the other hand, during the Second World War, there was a sharp reduction in the amount of facilities and materials available to students and work had to be produced with whatever could be found. During peace time, many students took the opportunity to travel and experience the art of other countries. While in 1938, the world came to Glasgow as the city hosted its Empire Exhibition at Bellahouston Park.
Browse images from 1919-1950 ›
---
Some key facts for this period include:
1919 – Student Numbers: 742
1919 – Diploma of Architecture course extended from four years to five
1919 – The Newbery Medal prize is first awarded
1920 – Student Numbers: 1079
1921 – Student Numbers: 1117
1922 – Student Numbers: 1086
1923 – Student Numbers: 1296
1923 – John Keppie awards school £3000 to found the Keppie Scholarship
1924 – Student Numbers: 1104
1924 – University of Glasgow sets up BSc in Architecture to be taught at Glasgow School of Architecture
1925 – Glasgow School of Art Club Dramatic Society is established
1925 – Separate male and female studio classes are abolished
1925 – Metal and Enamel Club formed
1925 – John D. Revel becomes Director (holds post until 1932)
1925 – Student Numbers: 1109
1926 – Student Numbers: 1274
1926 – Plans proposed to extend the School utilising the site across from Mackintosh Building
1926 – Athletics Club is formed encompassing football, rugby and hockey
1927 – Student Numbers: 1332
1927 – The Students Representative Council is formed
1928 – The Glasgow School of Art Association for former students is established
1928 – Student Numbers: 1389
1929 – Course in Furniture Design begins
1929 – Swimming is introduced into the Athletics Club
1929 – Student Numbers: 1337
1930 – The Assembly Building (now The Vic) completed, designed by Keppie Henderson
1930 – Student Numbers: 1307
1931 – Student Numbers: 1330
1931 – A Badminton section is initiated by the Students Representative Council
1932 – James Gray becomes Interim Director (until 1933)
1932 – Student Numbers: 1258
1932 – The School acquires premises at no. 158 Renfrew Street and the building is altered for school purposes
1933 – Student Numbers: 1249
1933 – Dorothy Carleton Smyth appointed Director but dies before she takes up the post
1933 – William O. Hutchison becomes Director (holds post until 1943)
1933 – The Glasgow School of Art Kinecraft Society is formed practicing cinema photography
1934 – Student Numbers: 1107
1935 – Student Numbers: 1167
1935 – Design classes for bakers and confectioners begin
1935 – Interior Decoration course introduced
1936 – Student Numbers: 11431936 – Diploma course in Commercial Art (later Graphic Design) begins
1937 – Student Numbers: 1175
1938 – Student Numbers: 1149
1939 – A War Comforts Fund is set up by students to send Christmas parcels to GSA students at war
1939 – During the Second World War (1939-1945) The Red Cross occupies the basement and ground floor of the Mackintosh Building as a hospital supply depot and store
1939 – Basement of Assembly Hall is sandbagged and used as an air-raid shelter
1939 – Student Numbers: 1255
1940 – Due to outbreak of Second World War staff and students put on nightly 'fire watching' rotas
1940 – Decision is made for School to remain partially opened during war
1940 – The Royal Air Force occupy part of no. 158 Renfrew Street (until 1943)
1940 – Student Numbers: 600
1940 – The Mackintosh Building narrowly escapes damage during air raids
1941 – Student Numbers: 467
1942 – Student Numbers: 582
1943 – Student Numbers: 629
1943 – Allan Walton becomes Director (holds post until 1945)
1944 – Student Numbers: 647
1944 – Children's Saturday classes are begun by Miss J. Alix Dick
1945 – Student Numbers: 961
1945 – Henry Y. Alison becomes Interim Director (until 1946)
1946 – Student Numbers: 1259
1946 – Henry Y. Alison designs and constructs (with the help of the School Janitor) the staircase in Mackintosh Library
1946 – Douglas P. Bliss is appointed Director (holds post until 1964)
1946 – The Mackintosh Room is set aside as a permanent collection to the work of Charles Rennie Mackintosh
1947 – Student Numbers: 1804
1948 – Student Numbers: 1791
1948 – Teaching of typography is introduced for Commercial Art students
1948 – Product Design course introduced
1949 – Student Numbers: 1872
1949 – Student refectory increases opening hours to 10.30, proving popular with students
1949 – Postgraduate diploma in Town Planning set up to meet demands of Town and Country Planning Act
1950 – Student Numbers: 1831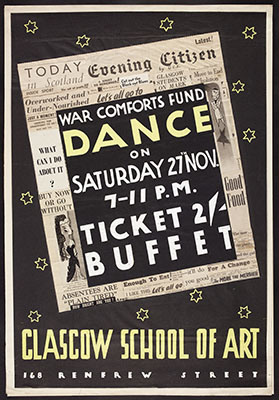 Poster for a War Comforts Fund Dance
by Dorothy Smith, 1944
---