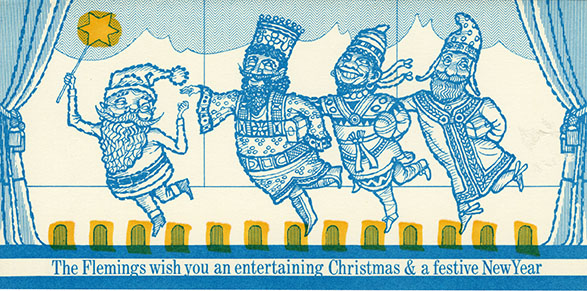 Hi blog readers,
It's that time of year again where the nights draw in and the mince pies come out! We hope you're all well and continuing to stay safe as the festive season approaches.
We have been delighted to welcome visitors back to our Reading Room recently and have enjoyed catching up with everyone on their various projects and research. We still have a few spaces left in 2021 so book in while you can!
As usual however, we will be closing in line with the GSA Christmas break on the 22nd of December 2021. This means that the last day that we'll be open prior to this will be Tuesday 21st of December from 10am to 4pm. We will then re-open again on Wednesday the 5th of January at 10am. 
Please note that, during this time, staff will not be monitoring the archives@gsa.ac.uk inbox, answering enquires or booking visits in. However, please do continue to send requests during this time and we will answer them as soon as we can in the new year.
In the meantime, enjoy a selection of vintage Christmas cards from our collection!
Very best wishes,
The Archives and Collections Team