GSA's traditional plaster casts feature in a contemporary art show at Glasgow International (GI) festival! Our Recovery Project Lead Polly Christie shares more…
Such is the attraction of GSA's plaster casts, that we received a loan request from a contemporary practitioner, who wanted to work with them as part of his show for GI. Tony Brotheridge, who is subject leader in Fashion at GSA, became interested in the casts since seeing them in the Reid building where he and the rest of the School of Design are based. The casts had been moved there from the Mackintosh Building, following the fire in 2014. His show, 'Material Objects' is a collaborative piece with the GSA graduate Ruth Switalski.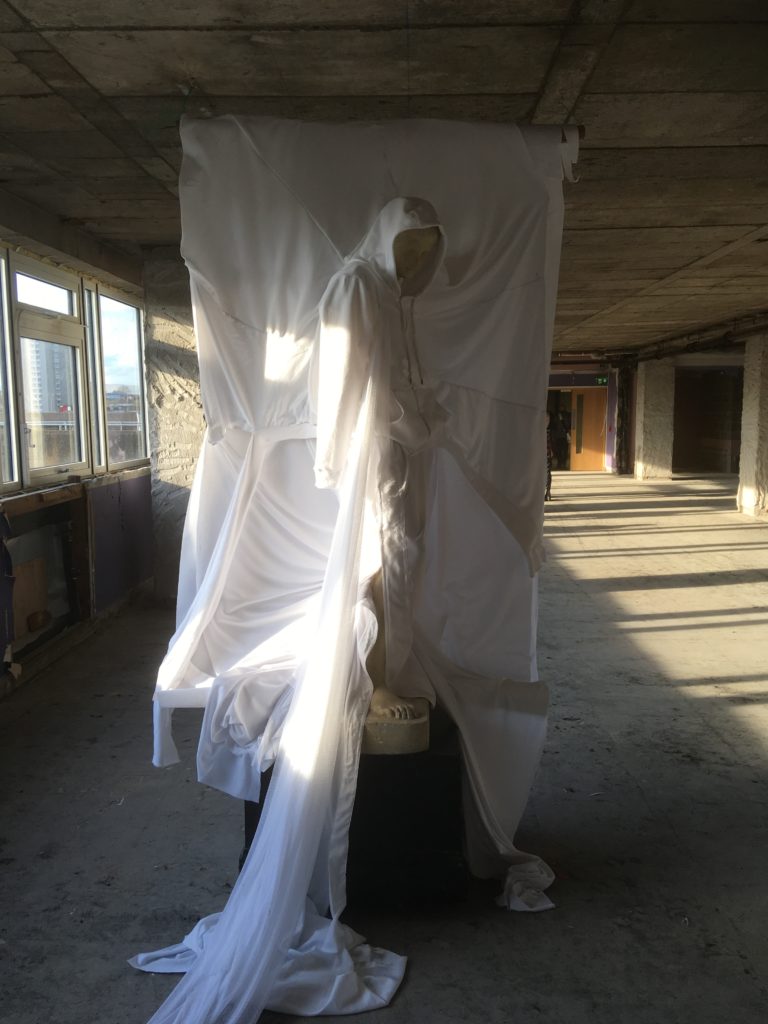 Tony has deployed his extraordinary dressmaking and creative skills to clothe the casts, which casts them (excuse the pun!) in an entirely new light. It was really arresting to see these figures, steeped in history and tradition, re-cast as contemporary mannequins. It never would have occurred to me that Discobolus' pose is similar to a 21st century youth's, sloping about in his shell suit and staring at an imaginary mobile phone! It just shows how the relevance of the casts can cut across cultures and eras, and maintain their relevance today. In this case, the piece is called 'Standing Discobolus, Innit', while the Venus de' Medici, draped in a kind of exaggerated over-flowing puffer jacket is entitled 'Venus in Puffa'. The Borghese Warrior, traditionally admired as an aesthetic model of the male nude in motion, is cut across with fabric, and thence dressed in white shirt from the waist up – he is ironically re-named 'White Collar Warrior', seemingly racing across the gallery floor to his office job! The show is on until 7th May on the 4th floor of the Savoy Tower, so do get along to see it if you can!
GSA's presence at Glasgow International doesn't end there – there are two exhibitions in the Reid Building too. 'War of the Corners' by Torsten Lauschmann, an alumnus of the school, was chosen as a 'pick of the festival' by Frieze Magazine. And  'Pencil to Paper' by Susanne Nørregård Nielsen  is also showing in the Reid, in the ground floor corridor for the duration of the festival (20 April – 7 May). Another member of the School's staff, Fine Art Critical Studies Lecturer Ross Birrell, is showing his project 'The Transit of Hermes', which presents films made for Documenta 14 at the Centre for Contemporary Arts (CCA). For a full list of the programme, click here.
Enjoy!